GREATLAND GUIDE SERVICE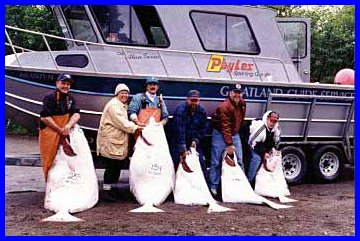 Come aboard one of our two fully equipped 28 foot Kofflers on the beautiful Cook Inlet. We're sure you will have an experience of a lifetime.
Trophy catches of several hundred pounds aren't uncommon, but you will be wild, frantic, and exhausted as you reel in an average 15-75 pound fish!
Greatland Guide Service
(907) 567-3325
Web Design by

Computer Services
This page is copyright © material, all right reserved.
---
The Halibut Boat | Catches | Location | Greatland Guide Service
Lodging | Package Prices | Reservations