ALASKA'S BEST
Halibut Fishing In Cook Inlet
ALASKA'S CLIMATE
Weather on the Kenai Peninsula can range from the mid-50's to mid-70's. It is wise to have warm clothes and raingear ready for a sudden weather change. Rubber footwear (kneeboots or hipboots) are a must. Keeping dry and warm will make your fishing trip more enjoyable. Since we're fishing saltwater we will be fishing the tides. Normally we fish three hours before and three hours after high tide and can vary from 5 to 10 hours depending on water and tide conditions.
LOCATION
Greatland Guide Service is located at Mile 143 of the Sterling Highway, just a beautiful one hour drive from Soldotna. Use the map below, or call (907) 567-3325 for directions.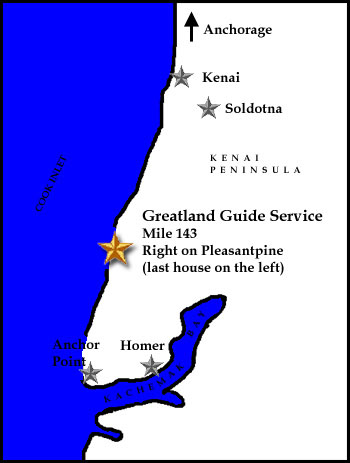 Greatland Guide Service
(907) 567-3325
Web Design by

Computer Services
This page is copyright © material, all right reserved.
---
The Halibut Boat | Catches | Location | Greatland Guide Service
Lodging | Package Prices | Reservations